Germany ends Kraft chemical emergency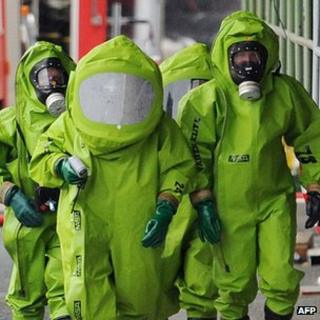 German firefighters have neutralised a chemical spill at a Kraft food factory near Hanover and some 1,400 people who were evacuated have gone home.
A toxic cloud was released after workers at the US food giant's plant in Bad Fallingbostel accidentally set off a chemical reaction on Monday.
However, a Kraft spokeswoman said nobody was injured.
Acid had been poured into a tank containing sodium hydroxide solution, threatening an explosion.
Firefighters managed to pump out the dangerous mixture, halting the rise in temperature in the tank.
Nearby schools and nurseries were temporarily closed in the north German town, as well as parts of a motorway.
The Kraft spokeswoman said that at no time had there been any danger for the population, "because we decided, along with the authorities, to evacuate as a precautionary measure".