Police in France smash 'huge Albanian heroin ring'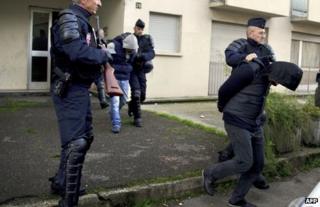 Prosecutors in France say police have smashed a "huge" Albanian heroin-trafficking network, making 42 arrests in eastern France and Germany.
Some 200 officers were involved in the raids, in which 39 people were arrested in the town of Mulhouse and a further three across the border in Germany.
About 50kg (110lb) of heroin cutting agents were seized, said Remi Coutin, a prosecutor in the region.
The ring had handled "hundreds of kilos of heroin", he added.
"Investigators found that there was a huge heroin-trafficking network in Albanian and Kosovar [Kosovo Albanian] circles in the Mulhouse area and also in Switzerland and Germany," the prosecutor said.
Tuesday's early-morning raids followed an investigation launched in 2010 by frontier police over suspicions that ethnic Albanians were involved in a human-trafficking ring.
While the raids were led by France's agency for fighting illegal immigration, riot police and police commandos also took part "because of the extreme threat posed by certain suspects", France's Le Figaro newspaper reports.
In an unusual step, the alleged drug-smugglers trafficked a substantial part of the heroin into rural parts of the region, the paper adds.
It says the ring originated in Switzerland and Germany before setting up in eastern France.