Radovan Karadzic assured in Bosnia war crimes defence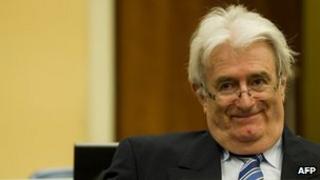 Radovan Karadzic brought his old wartime self-confidence to court today.
He appears utterly without self-doubt - as, indeed, he was two decades ago.
Mr Karadzic often spoke, 20 years ago, of the heroic and centuries-long struggle of the Serb people for national freedom and security. He saw himself as part of that tradition.
At the heart of that is the belief that Serbs can only be safe from annihilation if they all live in one state.
But he has an uphill task.
That many of the crimes he is accused of did take place is beyond doubt.
Some of his closest lieutenants have already been convicted and are serving long prison sentences.
The question for this trial is what role, if any, Mr Karadzic played.
Twenty years ago, at the height of the war, I went to see Mr Karadzic in his hotel room during peace talks in Geneva.
We sat together on the end of his bed. He had just rejected the latest peace plan.
I suggested to him that he stood that day at a crossroads.
If he accepted the plan he could turn himself into an architect of peace.
If he rejected he might well be embarking down a road that would end in a prison cell in The Hague.
He was affable and friendly with foreign journalists in those days.
He laughed and politely dismissed my suggestion. "No Serb leader could possibly accept such a plan", he said.
The war went on for three more years.