German minister Annette Schavan denies plagiarism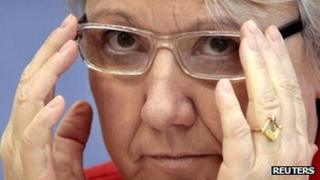 German Education Minister Annette Schavan has denied that she plagiarised parts of her doctoral thesis.
The university of Dusseldorf has been looking into Ms Schavan's 1980 thesis for several months after an anonymous blogger raised questions about it.
Chancellor Angela Merkel has said she has full confidence in her minister.
Ex-Defence Minister Karl-Theodor zu Guttenberg resigned from his post last year after it emerged he copied large parts of his doctoral thesis.
Media reports at the weekend said an initial evaluation of Ms Schavan's thesis found questionable passages on 60 of its 351 pages.
The minister told one German newspaper she had never "knowingly falsely cited any sources".
"At no time while working on my dissertation did I attempt to mislead," Ms Schavan said.
"As soon as the doctoral committee gives me the opportunity to do so, I will respond to the accusations."
Mr Guttenberg, a member of the Christian Social Union (CSU) - the Bavarian sister party of Mrs Merkel's conservative Christian Democrats (CDU) - was also stripped of his PhD by the University of Bayreuth last year after evidence of his plagiarism emerged.