Murat Karayilan: PKK gets no help from Syria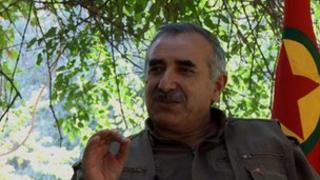 The military leader of the Kurdistan Workers' Party (PKK) has denied his group is receiving assistance from Syria or Iran in its fight with Turkey.
In an exclusive interview with BBC Persian's Jiyar Gol, Murat Karayilan said the suggestion of renewed Syrian support for the PKK was "a lie".
Clashes between the PKK and Turkish military have increased since the uprising in Syria began last year.
The armed group is fighting for an autonomous Kurdish region in Turkey.
Turkish officials have suggested that the neighbouring Syrian government may have renewed its allegiance with the Kurdish militants in an effort to undermine Turkey, which has led condemnation of Syria.
Fighting between the PKK and Turkish army has killed more than 700 people in the last 15 months alone, according to a recent report by the think-tank International Crisis Group (ICG) - the fiercest fighting in 13 years.
Meanwhile relations between Syria and Turkey have plummeted since Syrian president Bashar al-Assad began oppressing a revolt against his regime.
But Mr Karayilan, who spoke at his base in Iraqi Kurdistan, near the Turkish border, denied that Syria or its close ally Iran was sponsoring the PKK's operations.
"It's a baseless fairy story," he told the BBC's Jiyar Gol. "It's coming from outside, from the Turkish government... it's not true, it's a lie."
'No civilian targets'
There is a large Kurdish region in north-eastern Syria, bordering Turkey and Kurdish-administered northern Iraq, but relations with the Syrian government have historically been difficult.
In the 1990s, Syria was accused of harbouring PKK leader Abdullah Ocalan before his arrest by Turkish authorities in 1999, but has also been involved in the violent suppression of activists promoting Kurdish nationalism in Syria.
Mr Ocalan remains in prison in Turkey, leaving Mr Karayilan the de facto head of the PKK's military operations.
Mr Karayilan has not spoken to media outlets in almost a year, and met our correspondent in the mountainous regions close to the Iraqi-Turkish border amid high security.
The PKK is regarded as a terrorist group by Turkey, the US and the European Union.
It has waged a guerrilla campaign in south-east Turkey for more than 25 years, attempting to establish an ethnic homeland for the Kurdish people.
It has attacked military checkpoints and convoys, and carried out bombings in cities. Some 40,000 people, including civilians, have died in the war.
The PKK has been blamed for a recent spate of bombings, including one that killed four children in Gaziantep in August. But Mr Karayilan denied any involvement.
"Any time there are any explosions Turkey blames the PKK," Mr Karayilan said. "What is the evidence? How do you prove it? Has anyone taken responsibility for it?
"I want everybody to know: we are not targeting civilians."
Despite the recent escalation in attacks, Mr Karayilan insisted the PKK was still open to talks with the Turkish government in a bid to resolve the conflict.
Turkish Prime Minister Recep Tayip Erdogan has also recently suggested that further talks are possible.
But Mr Karayilan stressed that disarmament of the PKK would not happen until after an agreement was reached.
"Turkey, like a democratic country, should solve the Kurdish problem and then we will abandon our arms," he said. "We are willing to accept any mediation to end the war."