Fifty-six puppies found inside van at Dublin Port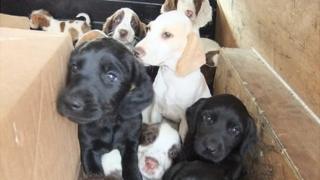 Customs officers have rescued 56 puppies which were found in a van at Dublin Port.
The van was stopped and searched on Thursday in a joint operation between Irish police, customs and the Dublin Society for the Prevention of Cruelty to Animals (DSPCA)
The puppies have been taken into quarantine. A 46-year-old man was arrested but has since been released.
On Tuesday, 36 puppies were seized by police in north Dublin.
They were discovered in two cars on the Malahide Road.
Police believe the puppies, which included cocker and springer spaniels, Labradors and Jack Russell terriers, were being sent to the UK from puppy farms in the Republic of Ireland.
Animal welfare officers said they suspected the animals, which were found in boxes, were being trafficked for sale in the UK.
Two men were arrested at the scene.
Officers from the Dublin Society for Prevention of Cruelty to Animals (DSPCA) took the puppies into quarantine and secure accommodation following their discovery.
Some of the puppies were found to be suffering from a number of treatable conditions including mange, ear mites, fleas, eye infections and parasitic infections.
The DSPCA said the puppies would not be available for new homes until inspectors had concluded their investigations.