Priory Hall, Dublin, apartments hold protest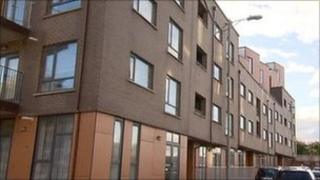 Residents forced to leave their Dublin apartment block after it was deemed a fire hazard are holding a protest march on Saturday.
More than 240 residents of the Priory Hall apartments were moved out of their homes in October 2011 after a court ordered work to make the building safe.
Residents say they have been left in limbo with many of them paying mortgages on homes unsafe to live in.
There is no sign of a deal in a mediation process
It was set up between the residents, Dublin City Council and the financial institutions involved.
Dublin City Council is appealing in the Supreme Court against a requirement to provide temporary accommodation for the residents.
The city council is claiming back the accommodation costs totalling 1m euros from the Department of the Environment.
Another 1m euros in extra costs, including the security for the empty apartments, will have to be borne by the council.
Dublin City Council said it could not comment on the situation because of the mediation process.
A Department of Environment spokesman said new legislation on building standards will be brought in soon.
Developer Tom McFeely successfully appealed against a prison term for failing to fix fire safety defects at the complex.