Regional press warn Turkey over Syria plane incident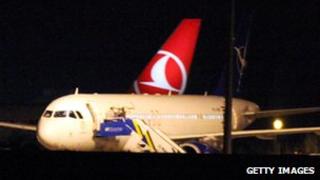 Newspapers in both Syria and Russia roundly condemn Turkey's action in forcing a Syrian-bound plane to land in Ankara because it suspected it was carrying Russian-made defence equipment.
The reaction of the Turkish press is more mixed, while Middle Eastern papers warn that other countries are using Turkish-Syrian tensions to further their own aims.
'Inappropriate behaviour'
The paper of Syria's ruling party, al-Baath, expressed outrage at Turkey's action, describing it as "a provocative act of piracy" and accusing Turkey of deliberately stoking up tension with the aim of triggering a war between the two countries so as to justify Nato intervention in Syria.
Russian commentators on the whole took the line that the Turkish leadership had acted disproportionately and was deliberately seeking to stoke tensions.
The popular tabloid, Komsomolskaya Pravda, accused Turkish Prime Minister Recep Tayyip Erdogan of "inappropriate behaviour" and said that unlike Russia, Turkey had been trying to incite a civil war in Syria. "What we're seeing now is a mild attempt to tread on our toes," the paper concluded.
The centrist Nezavisimaya Gazeta went further, taking Turkey to task for accusing Syria of aggression against it and saying that "Turkey's actions are the ones that come closer to being described as 'aggression'".
The business daily, Kommersant, quoted military pundit Aleksandr Khramtchihin as saying that the plane incident was an "anti-Syrian gesture on the part of Turkey", while the popular daily, Moskovskiy Komsomolets, described it as "an act of provocation, especially now that Turkey has started preparations for military action against Syria".
Proxy war?
Opinions in the Turkish press covered a wider spectrum. A commentary in the centrist Milliyet said the Turkish government had acted within its rights and had also respected international law. The commentator said that the plane incident ought not to affect Turkish-Russian relations, as Ankara's action was "not directed against Moscow but arose from a lack of trust towards Damascus".
However, several papers said there was a danger that Turkey could find itself fighting a proxy war on behalf of the West, but without much support from its allies. Zaman described Syria as "the last scene of the Cold War theatre between East and West" and warned that Turkey could become a pawn in "this dirty game".
The tabloid Posta said that Turkey could not rely on Nato to help out in the event of an armed conflict with Syria. "Nato will only support with words, but not fire a single bullet," the paper warned.
Geo-political game
In the wider region, the pan-Arab al-Quds al-Arabi warned Turkey against getting dragged into a war with Syria, saying that while Damascus had little to lose from such a conflict, the Turkish prime minister could end up getting his fingers badly burnt. "We, therefore, advise him to practise self-restraint as he will be the biggest loser, even if he emerges victorious from a war against Syria," the paper said.
Two papers in Syria's neighbour Lebanon also took the line that Turkey was a mere bit-player in a wider geo-political game.
The pro-Syrian al-Safir said the West was exploiting Turkey's loyalty to its Nato allies, and that Turkey should ask itself why the US was reluctant to intervene militarily in Syria. "The US seeks to take advantage of Turkey's Atlantic tendency... while it plays the role of the observer," the paper's commentator noted.
The centrist Lebanese paper, al-Anwar, on the other hand, said that if the cargo confiscated from the plane did prove to be Russian military supplies, then it showed that Moscow was "making use of the balance of power and interests to play a strategic game with the US".
BBC Monitoring reports and analyses news from TV, radio, web and print media around the world. For more reports from BBC Monitoring, click here