Turkey's munitions claim on Syria plane 'lies' - Damascus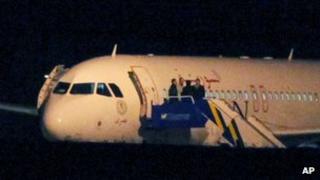 Syria has accused Turkey of lying over its claim that a Syria-bound plane forced to land in Ankara was carrying Russian-made defence equipment.
Syria's foreign ministry challenged Turkish PM Recep Tayyip Erdogan, who made the claim, to show publicly what had been seized.
Mr Erdogan said the jet was intercepted because of suspicions that Russia was breaching an arms embargo on Syria.
Russia also denied the aircraft had illegal cargo on board.
It said the interception by Turkish military jets had put the lives of the passengers - including 17 Russian nationals - "in danger".
Tensions were already high between Turkey and Syria, following the deaths of five Turkish civilians by shelling from across the border last week.
Turkey has returned fire, and on Wednesday its top military commander warned Ankara would respond with greater force if the shelling continued.
'Tip-off'
On Thursday Syria's foreign ministry accused Mr Erdogan of lying "to justify his government's hostile attitude towards Syria", according to Syria's Sana state news agency.
"The plane's cargo was documented in detail on the bill of lading and the plane did not carry any illegal material or any weapons," the ministry said.
It urged Mr Erdogan to "show the equipment and ammunition at least to his people".
The Syrian Air Airbus A320, with about 30 passengers on board, was intercepted late on Wednesday by two Turkish fighters and escorted to Ankara's Esenboga airport.
Turkey said previously it had received an intelligence tip-off that it had illegal cargo on board.
Speaking to reporters in Ankara, Mr Erdogan said: "What [a Russian state-run arms manufacturer] was sending to the Syrian Defence Ministry was: equipment, materials, munitions."
"Relevant authorities are continuing their investigation."
An earlier translation of Mr Erdogan's comments quoted him as saying "ammunition" rather than "munitions".
Russia's state arms export agency Rosoboronexport said it had no information about the cargo and denied it had any connection with the flight or anything on board.
On Friday the Russian broadsheet Kommersant, quoting sources close to Russian arms exporters, reported that there were 12 crates containing parts for Syrian air defence radars on board.
Damaged ties
The aircraft was allowed to leave Ankara in the early hours of Thursday. But Syrian Transport Minister Mahmoud Saeed accused Turkey of carrying out "air piracy" and breaking civil aviation agreements.
Turkey has already imposed an arms embargo on Syria, and Foreign Minister Ahmet Davutoglu said it was determined to stop any transfer of weapons to Syria through its airspace.
The foreign ministry said there was "no basis" for safety concerns and that "all measures were taken to ensure the safety of all passengers and to cater to their possible needs".
Since the uprising against Syria President Bashar al-Assad began last year, Russia has repeatedly refused to abandon its support for Damascus, while Turkey has been a vocal critic of the Assad government.
The BBC's James Reynolds, near the Syrian border in southern Turkey, says that despite taking opposite views, Ankara and Moscow have maintained a close relationship and continued to do business together.
This incident could be the biggest test of their ties since the conflict broke out, he adds.
In another sign of deteriorating relations, Turkish officials revealed on Thursday that Syria had stopped buying electricity from its neighbour last week.
In Syria itself, a huge explosion hit near a state security building in the centre of Damascus on Thursday.
State media said two people had been injured in the attack, which it blamed on "terrorists".
The Syrian Observatory for Human Rights, an activist network, said 92 government soldiers had died on Thursday, reportedly the highest death toll for the Syrian army on a single day since the conflict began.