Italy raids after Calabria council fired for 'mafia ties'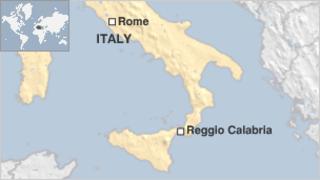 Italian police have conducted raids and arrests in Reggio Calabria after the government sacked the southern city's council over alleged mafia links.
The arrests targeted a branch of the 'Ndrangheta crime syndicate accused of exploiting rubbish collection.
Assets worth more than 30m euros (£24m) were being seized in several regions, officials said.
The sacking was the first time the entire government of a provincial capital had been fired in such a case.
All 30 city councillors were sacked to prevent any "mafia contagion" in the local government, Interior Minister Annamaria Cancellieri said.
Three commissioners will run the city for 18 months until the next elections.
Italy's parliamentary anti-mafia commission has described the 'Ndrangheta as the country's most dangerous and wealthiest crime syndicate, overtaking the Sicilian Mafia and becoming one of the world's biggest criminal organisations.
'Cash for votes'
Among those arrested in Reggio Calabria on Wednesday on charges including mafia association were the suspected head of the Fontana clan, a branch within the 'Ndrangheta, and the director of a company that runs rubbish collection for the city.
Police were taking possession of goods and property in Reggio Calabria, Rome and Tuscany.
Also on Wednesday, security forces arrested a member of the local government in the northern city of Milan accused of paying 200,000 euros to 'Ndrangheta in exchange for 4,000 votes.
Officials said housing commissioner Domenico Zambetti was accused of corruption, mafia association and vote-buying.
Authorities have become increasingly concerned about 'Ndrangheta's growing influence in northern Italy and elsewhere in Europe.
Cocaine is thought to be its biggest source of revenue, along with extortion and money laundering.