German boy 'steals from mother' to fund brothel trips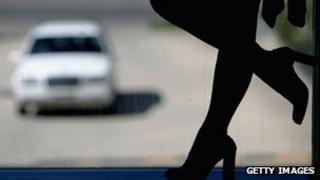 A 14-year-old boy in Germany has been charged with theft after pawning his mother's jewellery to fund visits to a brothel, German police said.
The boy exchanged the jewellery for 300 euros (£242) before paying for himself and a friend to visit a brothel in the German city of Karlsruhe, police said.
Police spokesman Ralf Minet said the boy admitted the theft, and that the mother was pressing charges.
The brothel involved is also under investigation by police.
However, the operator said it had turned the boys away because they were under age.
Prostitution is legal in Germany, but customers must be at least 18 years old.
Mr Minet told Reuters: "We don't know what the mother's motives are for pressing charges. It's possible she wants to teach him a lesson or it's possible that she felt she had lost control."
The two boys were caught in "a delirium of hormones", according to a police report seen by German newspaper Die Welt, and still wore "delighted smiles" despite being interrogated by police.
The jewellery, worth between 3,000 and 4,000 euros (£1,600-£2,400), has been returned by the pawnshop, the newspaper added, but the mother was planning to make her son pay back the money.