Gay marriage backed by Irish ex-president Mary McAleese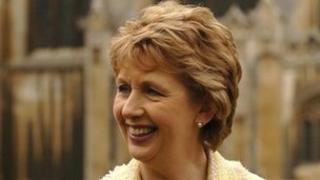 Former Irish President Mary McAleese has said she supports gay marriage.
In an interview with Irish state broadcaster RTE, Mrs McAleese said that she had "no problem with it at all".
"I'm just thrilled anyone wants to get married," she said, describing marriage as a "great grace".
Mrs McAleese said many gay people had endured "interminable loneliness" and praised campaigners who had emphasised that gay people were as entitled as heterosexuals to live on their terms.
Mrs McAleese also described her reaction to an accusation by Cardinal Bernard Law, who was Archbishop of Boston at the time of the conversation, that she was "a very poor Catholic president".
She said that she had told the cardinal, who resigned in 2002 over his mishandling of a child abuse scandal: "I am not a Catholic president, I'm president of Ireland" where "there were all sorts of people. I'm their president. I happen to be Catholic".
Last month the former president criticised the Catholic Church for its "isolated" views on homosexuality and said she was concerned at the growing number of gay men who killed themselves.
Since she left the presidency Mrs McAleese has been mostly in Rome studying canon law.
Ireland's coalition government proposes holding a special constitutional convention to amend the constitution, including plans to introduce same-sex marriage.