Georgia election: Rival leaders agree on Nato goal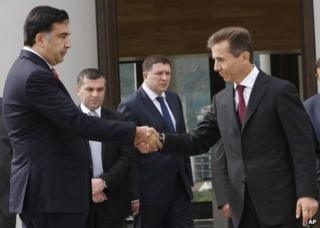 The president of Georgia and the incoming prime minister have agreed Nato membership remains a strategic goal, despite their differences.
Mikheil Saakashvili, whose party was defeated at last week's election, shook hands with Bidzina Ivanishvili for the cameras but showed little warmth.
It is the first time the two have met since last year, when Mr Ivanishvili vowed to oust the ruling party.
Under Mr Saakashvili, Georgia became a strong partner of Nato.
It has sent troops to serve alongside Nato forces in Kosovo, Iraq and Afghanistan.
Mr Ivanishvili, a tycoon who made his fortune in Russia, was portrayed by the ruling party during the election campaign as being pro-Moscow.
Russia has not had diplomatic ties with Georgia since the two countries' brief war over the breakaway Georgian territory of South Ossetia in August 2008.
'No excesses'
"We are striving towards Europe and Georgia will definitely be able to become a member of Nato soon," Mr Ivanishvili said after the talks with President Saakashvili in the capital, Tbilisi.
"We talked about foreign policy, our visions and so forth. The foreign policies declared by both sides - that Europe and the Euro-Atlantic space represent our strategies - are in accord."
Mr Saakashvili said that he, as president, would ensure the transfer of government functions would go forward "without any excesses".
Georgia's chances of joining Nato were damaged by the war with Russia, with the alliance wary of accepting a new member that might drag it into an armed conflict with Moscow.
Russian Foreign Minister Sergei Lavrov said in Moscow that while Russia hoped for a normalisation of relations with Georgia, the status of South Ossetia and fellow breakaway territory Abkhazia was not negotiable.
Russia has recognised both territories as independent states.
The new Georgian government is expected to take office later this month.