Former Anglo Irish Bank executives served with book of evidence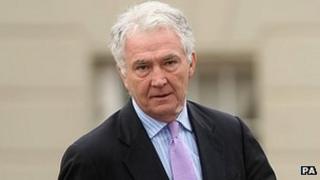 Three former senior executives of the collapsed Anglo Irish bank have returned to court in Dublin to be served with books of evidence ahead of their trial.
They are former head of the bank Sean FitzPatrick, a former managing director, Patrick Whelan, and its ex-finance director Willie McAteer.
They have been charged with unlawfully helping a group of investors to buy shares in Anglo Irish Bank in 2008.
No trial date has yet been set.
The bank, once seen as a major success story in the Republic's Celtic Tiger economy, recorded the largest corporate loss in the history of the Republic of Ireland after its shares collapsed in 2008.
Anglo was nationalised at a cost of about 30bn euros (£23.4bn) to Irish taxpayers and is currently being wound down by the Irish Bank Resolution Corporation Limited (IBRC).
Mr FitzPatrick, of Camaderry, Whitshed Road, Greystones, County Wicklow; Mr McAteer, from Auburn Villas, Rathgar, Dublin; and Mr Whelan, of Rachra, Coast Road, Malahide, County Dublin, were presented with the documents outlining the case against them.
The three former executives face 16 charges of trying to falsely inflate the bank's share price before its collapse in 2008.
They are accused of permitting Anglo to give financial assistance to 16 people to enable them to buy shares in the bank.
The group included Patricia Quinn - the wife of the former billionaire businessman Sean Quinn - and the couple's five children.
They also included 10 senior clients of the bank, who became known as the Maple Ten.
Three detectives from the Garda Bureau of Fraud Investigation signed declarations stating that the documents had been served.
None of the three former executives spoke during the brief hearing and they were each remanded on continuing bail.
Judge Cormac Dunne adjourned the case with a date to be fixed for trial.