Dublin Port customs officers seize 8m contraband cigarettes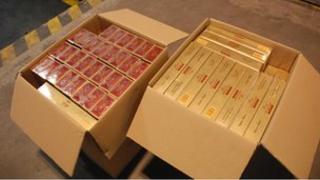 Eight million contraband cigarettes have been seized by Irish customs officers at Dublin Port.
The cigarettes, which have an estimated retail value of 3.1m euros (£2.5m), were found in a shipment from the Netherlands on Sunday.
Officers from the Customs Service seized an Irish-registered commercial vehicle and a refrigerated trailer.
The driver of the vehicle, an Irish man in his mid-40s, was interviewed and an international investigation is ongoing.
The discovery was made when the refrigerated unit, which had arrived on a ship from Rotterdam, was examined after routine checks.
Officers found four brands of cigarettes inside food boxes which were labelled "Garlic & Cheese Tear & Share".
The Irish Revenue said the seizure was part of its "ongoing operations targeting the smuggling and sale of illegal cigarettes".
It brings to 89.5m the total amount of contraband cigarettes seized by officers to date in 2012.