Russian Sukhoi Superjet to be customised for Mexico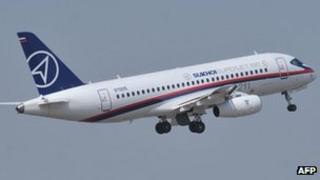 A Sukhoi Superjet 100 has arrived in Italy to be customised for service in Mexico, under a contract seen as vital for Russia's new airliner.
The jet landed in Venice's Marco Polo airport where it will be painted and fitted out, Russian news agencies report.
Mexican budget airline Interjet ordered 20 of the regional jets, with the first to be delivered in March.
Superjet's export hopes had suffered in May when one crashed in Indonesia.
It hit the side of a mountain with the loss of all 45 passengers and crew.
The results of the investigation into the disaster - blamed unofficially on human error - are due to be released later this month.
Future 'workhorse'
Superjet International, a joint Russo-Italian company, is based in Tessera, Venice.
Interjet announced its order for SSJ 100 jets during the summer, saying it was taking a "calculated risk".
The airline's CEO, Jose Luis Garza, told aviation news website AIN in an interview that the SSJ 100 had been chosen over Brazil's Embraer E190 and Canada's CRJ900.
The jets, he said, would be in service in Mexico City, Guadalajara, Monterrey and other cities, including Toluca, where low air density is an issue for aircraft engines.
"This is going to be a workhorse for us because utilisation is going to be intense in Mexico - more than five cycles per aircraft per day," he added.
The value of Interjet's contract with Superjet is believed to be around $825m (£511m; 633m euros).
While a number of Russian firms have placed orders for the SSJ 100, only one foreign airline has taken delivery of the jet, Armenia's Armavia. Armavia recently grounded its sole SSJ 100 in an apparent dispute over servicing costs.