Italy smashes transsexual prostitution ring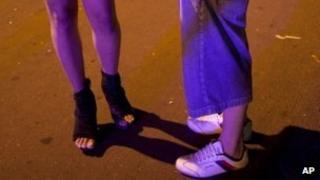 Italian police say they have broken a prostitution ring which trafficked transsexual people from Latin America into the country.
Police said they arrested 28 suspected members of the prostitution ring, 24 of whom are already in prison.
The group was made up of Italians and Brazilians who were recruited from shanty towns in Brazil and other Latin American states.
Arrests took place in three Italian regions - Lazio, Campania and Umbria.
The transsexual targets were sent airline tickets for flights from Rio de Janeiro to Madrid, Zurich, Paris, Budapest or Bucharest, from where they would be sent on to Italy, reports said.
Twelve properties which police believe were to be used for prostitution have also been seized.