Two die in Swiss canyon accident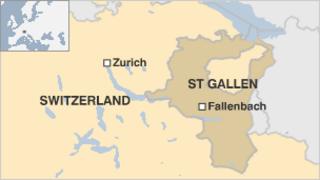 A Belgian guide and a German tourist have died in an accident in a canyon in north-eastern Switzerland, police have said.
The two women, aged 24 and 23, were part of a group caught out by a sudden rise in water in the canyon.
They were taking part in a sport known as canyoneering, which involves jumping and sliding into rivers and swimming downstream without a raft.
The accident took place on Sunday in the Fallenbach canyon in St Gallen.
Police said on Monday that they had only been able to rescue five members of the group after the water level rose dramatically.
The bodies of the two women were found several hours later, after a helicopter search had to be called off due to bad weather.
Three members of the group were taken to hospital with minor injuries.
A second group was also in the canyon at the time of the accident, but all members of that group were safely rescued.
A spokesman said the rise in water levels had been triggered by heavy rains during the afternoon.