Les Franglaises: French fun with old rock ballads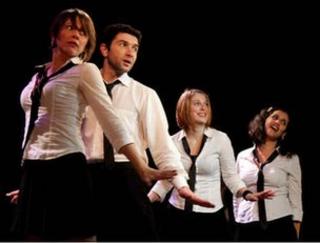 Pity the poor French: devoted fans of British and American rock music, but too often in sorry ignorance of the words they would love to be able to sing.
Fortunately help is at hand for those who do not know their hoochie-coochie from their honky-tonk.
In a new Paris show called Les Franglaises, well-known English songs are given a Gallic makeover to render them (in theory) more intelligible.
In fact, the result is by turns surreal, touching and hilarious.
"Billie Jean n'est pas mon aimant. C'est juste une fille qui clame que je suis le un. Mais le gosse n'est pas mon fils." So read the reworked opening lines of Billie Jean by Michel Fils-de-Jacques.
Or try this: "Il y a une dame qui est sure que tout ce qui brille est d'or. Et elle s'achete un escalier au paradis." By Zeppelin de Plomb.
In fact the show takes the form of a quiz, with an actor reading out literally translated lyrics for the audience to guess.
Parlour game
When they get it right, the troupe perform the song in its nouvelle version. It is a mixture of music, dance and theatre.
"The origins lie in a kind of parlour game we used to play in the evenings," says Adrien Le Ray, one of the 12 performers.
"One of us would translate literally the words of an English song, and the rest would work out what it was. Funnily enough, it is not always that obvious, even when the song is really famous."
For the show, the group has chosen a dozen songs, from It's Raining Men (Il pleut des hommes) to In the Navy (Dans la Marine). The climax is a bravura interpretation of Hotel Californie.
"The French find it funny, because the truth is we never really understand half of what these songs are about," says Le Ray.
"There is a French expression - singing 'yogourt' - and that's what most people do when they do not understand the words and they want to sing in the shower or wherever.
"'Yogourt' is a kind of gibberish English. It's how people imagine the sound of the English words but it's just rubbish."
Evidently, the French enjoy playing around on the border-line between the two languages (much like the British indeed, who have their own version of franglais).
For two years, a website called Pardon My French has invited amateurs to send in their own literally translated versions of English songs.
Amusing examples incloude Enola Homosexuel, Quoi d'neuf petite chatte and (tough one this) Je suis le morse.
"Behind the fun, it is actually a tribute to Anglo-Saxon rock, which we all adore," says Le Ray.
"It is a field where we can only bow our heads and admit: you have us at an advantage, chers messieurs anglais!"
PS: Morse = Walrus