Greece bailout: Tension in Athens over unpaid workers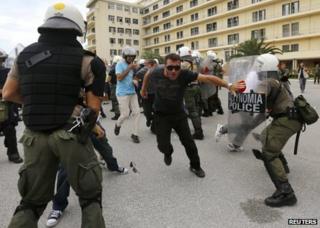 Protesters have appeared in court in the Greek capital Athens a day after a rally by shipyard workers against job cuts descended into violence.
A line of blue police lorries flanked the courthouse as riot police kept back supporters of those detained during the clashes on Thursday.
Police had used truncheons when at least 100 protesters broke into the courtyard of the defence ministry.
Greece may run out of money next month, its prime minister has warned.
Antonis Samaras told the German daily Handelsblatt that his country could only survive until the end of November without the next planned tranche of bailout loans.
Germany's Chancellor Angela Merkel will visit Athens on Tuesday for talks with Mr Samaras on the bailout - her first visit there since the debt crisis erupted.
In another development, a Greek politician under investigation by the country's economic crimes squad has been found dead at his home.
Leonidas Tzanis, 57, a former deputy interior minister from the Socialist Pasok party, was found by his wife in the central Greek town of Volos on Thursday evening, police said.
His death is being treated as suicide.
Runway protest
Police could be seen gently moving back supporters of the detainees who had gathered near the courthouse.
During Thursday's unrest, protesters clashed with police both at the defence ministry and outside Greek police headquarters.
When they forced open the shuttered entrance to the defence ministry complex, they crossed the courtyard and blocked the entrance to the general staff building, demanding to meet ministry officials.
Greece's top military officer, Gen Michalis Kostarakos, emerged to speak to them but was heckled with shouts of "thieves!"
"First get off my base," he said, arguing the military had no part in a labour dispute with the government.
Police made scores of arrests, prompting the second protest outside police headquarters, where pepper spray was used to disperse the crowd.
Demonstrators say they have not been paid for several months while their place of work, Hellenic Shipyards, is threatened with bankruptcy.
Operating at less than capacity for months, the shipyards depend on modernisation contracts from the Greek armed forces, which have been suspended or delayed due to the financial crisis.
Also on Thursday, hundreds of farmers on the island of Crete tried to storm the runway of Heraklion airport and clashed with police.
They were protesting against plans to cut pensions and raise taxes, as well as rising production costs.
'Fascist threat'
Greece is hoping to obtain a 33.5bn euro (£27bn; $43bn) instalment from its second bailout of 130bn euros.
The troika of international lenders - the European Commission, the International Monetary Fund and the European Central Bank - is expecting cuts of nearly 11.5bn euros in return.
Mr Samaras told Handelsblatt it would be "very difficult" to make further cuts to pensions and wages.
He said rising unemployment was threatening Greek society "like it did towards the end of the Weimar Republic in Germany", referring to the turmoil that preceded Adolf Hitler's Nazi dictatorship in the 1930s.
Mr Samaras said Greek society faced threats from far-left populists and "the rise of an extreme right, you could say fascist, neo-Nazi party".
A number of anti-fascist demonstrators arrested earlier this week also appeared in court in Athens on Friday.