Turkey PM Recep Tayyip Erdogan 'not to start Syria war'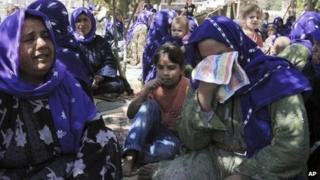 Turkey's PM has said his country has no intention of starting a war, after parliament in Ankara authorised military action inside Syria.
Recep Tayyip Erdogan said the authorisation was purely deterrence but he also warned that his country's determination should not be tested.
Parliament earlier approved military action in response to Syria's deadly shelling of a Turkish town.
The UN has condemned the Syrian attack "in the strongest terms".
A statement by the Security Council called on the Syrian government to "fully respect the sovereignty and territorial integrity of its neighbours".
It said the incident "highlighted the grave impact the crisis in Syria has on the security of its neighbours and on regional peace and stability".
Thousands of Turks have gathered in towns and cities across the country to protest against the possibility of going to war with Syria.
Turkey's parliament passed a bill on Thursday by 320 to 129 authorising troops to launch cross-border operations against Syria and strikes against Syrian targets for the period of one year.
The closed-doors, emergency session vote followed Wednesday's shelling of the Turkish town of Akcakale, which killed two women and three children.
Turkey responded by shelling targets inside Syria - the first time it had done so in the 18-month-long unrest there.
Syria's UN envoy said two Syrian army officials were injured in the retaliatory shelling.
'No to war!'
Mr Erdogan said at a news conference in Akcakale on Thursday evening: "We want peace and security and nothing else. We could never be interested in something like starting a war."
But he added: "The Turkish Republic is a state capable of defending its citizens and borders. Nobody should try and test our determination on this subject."
Mr Erdogan also questioned suggestions that the shelling could have been an accident, saying Syrian shells had fallen on seven other occasions since the unrest began.
"Even today we had a shell landing in Hatay city, Altinozu district," he said.
"One time is an accident... but how is this an accident when it happens eight times?"
On Thursday evening thousands of people gathered in Istanbul's Taksim Square for an anti-war rally.
Demonstrators chanted: "No to war! Peace now! We won't be soldiers of imperialists!"
Some banners accused Mr Erdogan's Justice and Development Party (AKP) of being a stooge of the US.
Bedri Baykam, a Turkish artist and activist, said: "[The] United States wants Turkey to enter war against Syria because there are elections coming in the United States. Obama doesn't want to send American troops so the Turkish army serves as their tool but we don't want to be part of the bloodshed in the Middle East."
Other, smaller anti-war protests were reported in Izmir, Mersin, Eskisehir and other cities and towns.
A few dozen people chanting "we don't war" had also earlier protested in Ankara, with police firing tear gas to stop them reaching parliament.
Many social media users in Turkey also reacted strongly against the possibility of war with Syria.
Hashtags such as #notowar drew a lot of attention.
An online survey by the Hurriyet newspaper suggested 60% opposed the parliamentary bill.
However, many Turks voiced support for the retaliatory shelling.
At the United Nations, Secretary General Ban Ki-moon was "alarmed by escalating tensions along the Syrian-Turkish border", according to his spokesman, Martin Nesirky, and has called for "maximum restraint".
US state department spokeswoman Victoria Nuland said Turkey's retaliatory shelling was appropriate, proportionate and designed to protect its sovereignty.
Syria's UN envoy, Bashar Jaafari, said his country had offered deepest condolences over the deaths, but not an apology, because an investigation into the incident had not been completed.
Zeliha Timucin, her three daughters and her sister died in Akcakale when a shell fell in their courtyard as they prepared the evening meal.
They were buried in a local cemetery on Thursday.