Strasbourg concerned as Belgrade bans gay pride again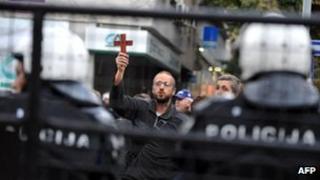 A top official at Europe's main human rights watchdog has voiced concern after Belgrade banned a gay pride event for the second year running.
Keith Whitmore, of the Council of Europe, called on the authorities in Belgrade to reconsider their decision.
The city should respect the right of gay people to free assembly, he said.
The European Commission warned that the decision went against fundamental human rights upheld by the EU. Serbia won EU candidate status earlier this year.
But Serbian Prime Minister Ivica Dacic described the ban on Saturday's event as a "victory for Serbia".
Serbian police took the decision to ban the event after security assessments, police chief Milorad Veljovic told Reuters news agency.
The 2011 Belgrade Pride parade was banned at the last moment out of fear of a repetition of violence in 2010, when dozens were injured and arrested as protesters opposed to the parade clashed with police.
'Direct provocation'
Mr Whitmore, who heads the Council of Europe's Congress of Local and Regional Authorities, cited a 2007 resolution which obliges local authorities to ensure freedom of assembly and expression for gay people.
"Banning pride events runs counter to this obligation and only adds to the worrying rise of homophobic actions in Europe,'' he said.
Serbia is a member of the Council of Europe, which brings together EU and other European states.
Peter Stano, spokesman for EU Enlargement Commissioner Stefan Fuele, said: "We take note with regret of the decision of the Serbian authorities to ban the gay pride parade for the second year in a row."
Mr Fuele, he added, was "particularly committed to seeking from candidate countries that they fully embrace fundamental rights and values".
But Prime Minister Dacic said: "Nobody will be telling anyone what should happen in Belgrade, be it the EU or any of the countries of the world, or any extremist or radical organisation."
He condemned a Swedish art exhibition being held in Belgrade to coincide with Pride Week. Ecce Homo features photographs which appear to depict Jesus Christ, naked or wearing high heels, among gay people.
"Just imagine that we saw a caricature of Muhammad as a gay man," he said, recalling the recent violent protests by Muslims over a video mocking the Prophet Muhammad.
"This is not about freedom of expression, this is a direct provocation that can destabilise relations within the country," the Serbian prime minister said.