France investigates Marseille anti-crime squad police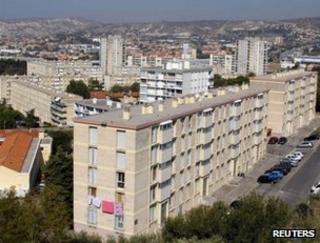 At least 12 members of the police anti-crime squad (BAC) in the southern French city of Marseille have been arrested in an inquiry into corruption.
They are suspected of having stolen drugs and cash from dealers and taking cigarettes from illicit sellers.
Five hundred grams of hashish, cash and jewellery were found hidden in the ceiling of a police station.
A lawyer said the find did not prove the officers were corrupt, as they frequently worked under deep cover.
Marseille has been plagued by drug-related crime for decades and the officers arrested had worked on housing estates notorious for trafficking.
"A few of them, apparently, were helping themselves and taking a cut," said prosecutor Jacques Dallest.
A police source who spoke to French magazine L'Express on condition of anonymity said he expected more arrests to follow.
Deep cover?
The northern districts of Marseille, where the suspects worked, are a lucrative source of money for the drug cartels.
Top dealers there can make 100,000 euros (£80,000; $129,000) a month, the BBC's Christian Fraser reports from Paris.
The investigation is looking more deeply into the lifestyles of senior police officers in a bid to trace tens of thousands of euros that was allegedly paid in dirty money.
According to regional newspaper La Provence, detectives from the French national police's internal affairs department, the IGPN or "stew squad" as it is nicknamed (French: "boeuf-carottes"), are poring over the Marseille BAC suspects' bank accounts.
A lawyer for one of the suspects, whose name was not given, was quoted by La Provence as saying that a distinction had to be drawn between "bent cops" and "informal methods".
"They are often obliged to work under deep cover," he said. "Since when do you catch flies with vinegar? It's all 'I'll scratch your back' with the informers."
It is the second time in recent weeks that the French police force has been shamed by allegations of corruption within its drugs squads.
In September, Michel Neyret, the deputy police chief of Lyon who had been hailed for cutting drug crime and jewellery heists, was arrested after being accused of accepting gifts and favours from members of the city's underworld.