Barnardos Ireland calls for cut in universal child benefit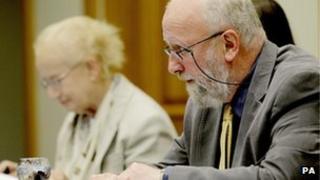 An Irish children's charity has called for a cut in universal child benefit payments in order to redirect the money to the families in most need.
Barnardos Ireland chief executive, Fergus Finlay, said he believed the Republic of Ireland's child benefit system needed to be reformed.
He told the Irish state broadcaster RTE that the money "does not always go where it's needed most".
The charity said that one in nine Irish children "live in consistent poverty".
Non-means tested
In the Republic of Ireland, child benefit is paid to the parents or guardians of all children under 16 years of age, regardless of their household income.
The payments continue until the young person turns 18, provided that they remain in full-time education.
At present, parents and guardians receive 140 euros (£112) per month for each of their first two children.
If they have a third child they will receive an additional 148 euros (£118) per month.
Irish families with four or more children will collect another 160 euros (£128) every month for each subsequent child.
Mr Finlay argued that the potential savings generated by a cut to the non-means tested payment could be used to help low-income families.
The Irish Agriculture Minister, Simon Coveney, said child benefit had cost the government about two billion euros (£1.6 bn) last year and he added the issue would be discussed in the run up to the budget in a few months time.
The Republic, which received an international bailout in 2010, is facing more tough financial decisions ahead of another austerity budget in December.
Prioritise
Mr Coveney told RTE: "Last year, a lot of people rightly raised the issue of is it fair that very high-income earners are getting the same supports through child benefit that people who are on low incomes are getting.
"At a time when you have to try and prioritise spending for families and parents and children who need financial support the most, then I think that it's something that we need to consider."
The Irish Minister for Social Protection, Joan Burton, is in charge of the department responsible for child benefit payments.
She set up an advisory group to consult on tax and welfare reform in June 2011.
RTE reported that the group has suggested cutting child benefit to about 100 euros (£80) per child each month.
It was claimed that move could save the government 200m euros (160m) a year.
A spokeswoman for Ms Burton's department said the minister was still considering the advisory group's report.
She added: "No decisions in relation to the forthcoming budget have been taken."
Barnardos was founded by an Irishman, Dr Thomas Barnardo, who set up a network of children's homes in London after moving to city for medical training in 1866.
Nearly 100 years later, the UK-based charity began working in the Republic of Ireland.
Barnardos Ireland was established as an independent charity in 1989.