Mary McAleese criticises Catholic church's gay viewpoint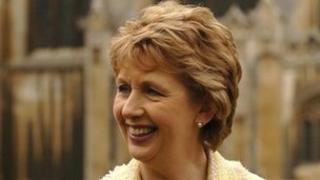 A former Irish President has criticised the Catholic church for its 'isolated' views on homosexuality.
Mary McAleese said she was concerned at the growing number of gay men who take their own lives.
She said that when the research is broken down, it shows that young gay men are one of the most at-risk groups in Ireland.
Mrs McAleese was president of Ireland for 14 years. Her term in office ended in November 2011.
Speaking to RTÉ Radio, Mrs McAleese said many of these young men will have gone to Catholic schools and they will have heard there their church's attitude to homosexuality.
"They will have heard words like disorder, they may even have heard the word evil used in relation to homosexual practice," she said.
"And when they make the discovery, and it is a discovery and not a decision, when they make the discovery, that they are gay, when they are 14, 15 or 16, an internal conflict of absolutely appalling proportions opens up".
She said many young gay men are driven into a place that is "dark and bleak".
Mrs McAleese said she met the Papal Nuncio shortly after Easter to raise with him her concern about the growing number of suicides among young men in Ireland.
However, she said the issue will not be tackled until the "omerta" or code of silence on the issue is broken.