France budget: Hollande's grim choices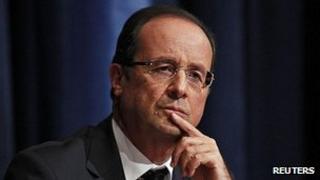 France is committed to reducing its deficit next year to 3%. If it backtracks it fears the markets would force up its borrowing costs, in the way they have done with Spain and Italy.
France needs to save around 30bn euros (£24bn; $37bn). Only a third of that will come from spending cuts. Taxes on the rich will raise 10% and a similar amount will come from businesses. There is the expectation that capital gains, interest and dividends will be taxed as regular income.
The 2-3,000 people who earn over 1m euros will see their income tax rise to 75%. Already some of the ambitious and well-off French people have trudged to London and Brussels in pursuit of lower taxes. The government has denounced them as unpatriotic and pretends not to care. This budget, said a government minister, would spare the middle and working class, which is where the votes lie.
This budget is a political test for President Francois Hollande. Can he reduce public spending? Which cuts will he choose to make to save 10bn euros? Mr Hollande is a president with little room to manoeuvre. His supporters in the unions are watching closely.
He came to power criticising the policy of austerity first. Growth would be the priority. His first months in office have born that out. There has been no growth for three quarters. France is stagnating. Although the goverment has increased public spending that has been offset by a decline in household spending. The consumer lacks confidence. Unemployment has risen above three million and the president's approval ratings are falling.
One major test of the government's commitment to growth is the country's labour laws. It is notoriously difficult to take on new workers and replace them. Nothing would, over time, boost growth and employment more than a radical overhaul of France's employment laws. But will the government take on its natural supporters and insist change must come?
The French goverment will move cautiously. It will have noticed that elsewhere in Europe the years of austerity are bringing protesters to the streets. On Sunday in Paris there is a demonstration against the EU fiscal pact that sets strict limits on deficits.
It is frequently said by European officials and some leaders that what the EU needs is "more Europe". What this week of budgets and protests has revealed is that what the people want is a Europe that delivers.
France does not want to be Italy. France does not want to be Spain. That is the motive behind today's French budget, according to the prime minister. The relatively new French government hates the very word "austerity", but it too will have to unveil some spending cuts.