Russia parliament speaker pulls out of Strasbourg forum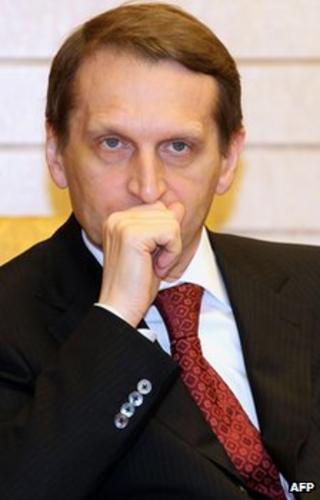 Russia's parliament speaker has pulled out of a session of the Parliamentary Assembly of the Council of Europe, accusing members of Russophobia.
Sergei Naryshkin was due to deliver a speech to the PACE, which represents EU and other European states including Russia, in Strasbourg next Monday.
He said he did not think he would get a proper hearing.
Russia's judicial system is expected to be criticised for jailing members of political punk group Pussy Riot.
The assembly is due to vote on Tuesday a resolution criticising Russia's legal system and elections.
PACE president Jean-Claude Mignon said in a statement he was disappointed by Mr Naryshkin's decision.
'It takes two'
Mr Naryshkin, speaker of the State Duma and a member of the ruling United Russia party, had agreed to address the assembly six months ago.
"But as the session's opening was nearing we felt that key strategic proposals of mine would not be heard by a number of leaders of the Parliamentary Assembly and a number of Russophobic delegations," Mr Naryshkin said in televised remarks.
"I have come to the conclusion that it will be possible for me to address a PACE session [only] when the conditions are suitable."
Other Russian delegates to the PACE session are expected to attend.
Mr Mignon said an exchange of views with Mr Naryshkin would have allowed the PACE to make a political assessment of Russia's participation in its work.
"It takes two to hold a dialogue," he added.
Maria Alyokhina, 24, Nadezhda Tolokonnikova, 22, and Yekaterina Samutsevich, 29, were all convicted of hooliganism motivated by religious hatred and jailed for two years in August.
They had performed an obscene song attacking Russian leader Vladimir Putin inside a Moscow cathedral.