Man shoots dead three guards at Ukraine supermarket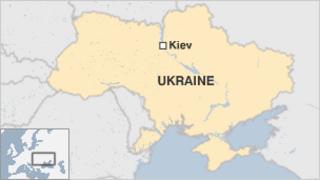 A man has shot dead three security guards at a supermarket in Ukraine's capital Kiev, police say.
Another security guard was seriously injured in the incident at the Karavan (Caravan) supermarket.
The man opened fire when he was being questioned on suspicion of stealing a computer memory stick. He then fled.
A city-wide manhunt is now under way, and police are offering 100,000 hryvna (£7,600; $12,300) for information leading to the arrest of the suspect.
Police have also released a CCTV image of the man, whose identity was not immediately known.