Irish National Ploughing Championships: 190,000 to attend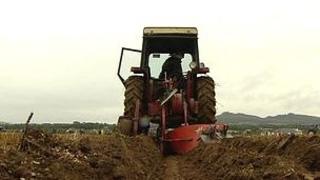 Up to 190,000 people are expected to attend the Irish National Ploughing Championships in County Wexford over the next three days.
The championships are taking place on a 700-acre site at Heath Park, just outside New Ross.
More than 300 competitors will take part in the ploughing event itself.
However, there will also be nearly 1,300 trade stands with a special emphasis on the food sector.
Long stretches of metal track have been laid for visitors to walk on following a weather warning for heavy rain and strong winds.
The event was officially opened at noon by Irish President Michael D Higgins.
He said the championships represented both tradition and innovation.
The president said there was a strong symbolism in turning over the sod - of beginning a new and moving on.
He said Irish people were living in difficult times, but had a sense of hope and were moving forward.
The first inter-county ploughing contest took place in 1931 to settle an argument between two lifelong friends from counties Wexford and Kildare.
The championships have since grown from a small field of 26 acres to 700 acres of land.
The event features tractor, vintage and horse ploughing.
As well as all-Ireland titles, those taking part will be competing to qualify for European and world competitions.
There will also be an 80-acre trade show of agriculture machinery, livestock, lifestyle, leisure, forestry, bio-energy, home, garden, food fair and a craft village.
More unusual events will include the the Irish Axe Factor, welly throwing and pole climbing.
An estimated 71,000 people attended the opening day of last year's championships, held near Athy in County Kildare.