France upholds Total verdict over Erika oil spill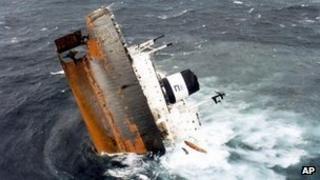 France's top court has upheld fines imposed on the French oil giant Total for an oil disaster in 1999.
The tanker Erika sank off the coast of Brittany dumping 30,000 barrels of heavy fuel oil into the Atlantic sea.
Total was convicted of negligence in 2008 for overlooking maintenance problems of the ship it had chartered.
Total had argued that since the ship had gone down in international waters and was flying a Maltese flag, French courts did not have jurisdiction.
Campaign groups said that if Total had been absolved of blame for this disaster, 30 years of environmental protection law would have been undermined.
"This is a decision that will make all oil companies think deeply about the organisation of maritime transport," Jean-Pierre Mignard, a lawyer for several coastal districts affected, was quoted by Agence France Presse as saying.
Huge fines
The Erika sank 75km (45 miles) off the coast of Brittany in December 1999, contaminating 400km of coastline in one of France's worst environmental disasters.
In 2008, Total, the Erika's owner and its manager, were found guilty of negligence, as was Rina, the Italian company that declared the Erika seaworthy.
Total was fined 375,000 euros (£280,000) and ordered to pay nearly 200m euros in damages to the French state and the local fishing industry.
All the convictions were upheld in latest ruling by the Court of Cassation.
Earlier this year, the chief prosecutor encouraged the court to find in Total's favour, says the BBC's Christian Fraser in Paris.
The court ignored him - but this ruling does not conceal the ongoing difficulties in assigning jurisdiction when a ship sinks outside territorial waters, our correspondent says.