Moscow 'drunk driver' kills seven on Minsk Street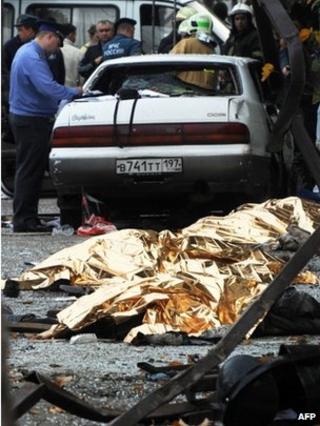 A drunk driver killed seven people and injured three others by crashing his car into a bus stop in Moscow, Russian police say.
The 29-year-old driver, who was arrested at the scene, had his licence suspended in 2010 for drunk driving, officers said.
Interfax news agency quoted a police official as saying he was driving at about 200km/h (125mph).
If convicted, he could face up to nine years in jail.
"As a result of a test that was conducted, it was determined that at the time of the accident the driver was in a state of alcoholic intoxication," a statement on the Moscow police website said.
The crash occurred on Minsk Street in the west of the city.
Unconfirmed reports said some of the crash victims were children.
The Russian government has taken steps to curb alcoholism in recent months, raising taxes on beer, and passing a bill banning internet advertising of alcoholic drinks.