Russia police launch deadly raid in Kabardino-Balkaria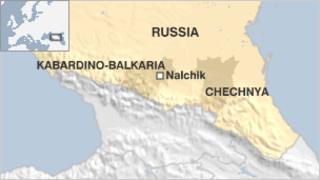 At least eight suspected Islamist militants have been killed in a raid by Russian security forces in the North Caucasus region of Kabardino-Balkaria.
Police surrounded a house in the city of Nalchik and stormed it after those inside refused to surrender, officials said quoted by Itar-Tass news agency.
Russia is fighting a simmering Islamist insurgency in the Caucasus.
Most attacks have affected Chechnya, Ingushetia and Dagestan, but Kabardino-Balkaria has also suffered violence.
"Despite lengthy negotiations, the bandits - including two female leaders - refused to leave the house and opened fire on the police who were forced to launch an assault," an official of the Russian National Anti-Terrorist Committee said.
An Islamic insurgency has spread across the North Caucasus following two separatist wars in Chechnya.
Shootings, bombings and police raids occur on a regular basis.
In February 2011 militants attacked ski resorts in Kabardino-Balkaria in what Russia saw as possible preparations for assaults on the 2014 Winter Olympics in Sochi - about 300km (185 miles) to the west. Five people died in the attack.
Militants say they are fighting to create an Islamic state in the North Caucasus - a strip of provinces along Russia's southern border.
However, rights activists say the insurgency is fuelled by poverty and anger at Russian security forces.