Italy quake: Emilia Romagna to get huge EU aid grant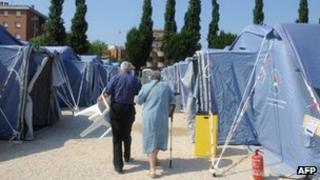 The EU plans to give a record 670m euros (£538m; $872m) from its Solidarity Fund to the Emilia Romagna region in northern Italy, hit by two earthquakes and aftershocks in May.
It is the biggest EU aid allocation since the fund was set up in 2002.
The earthquakes on 20 and 29 May killed 27 people, injured about 350 and forced more than 45,000 to leave their homes.
EU Regional Policy Commissioner Johannes Hahn said the priority was to rehouse and support the homeless.
A Commission statement said Italy had reported direct damage worth 13.3bn euros - that is, 3bn euros more than the damage caused by the L'Aquila earthquake in the Abruzzo region in 2009.
Emilia Romagna suffered widespread damage to buildings and infrastructure. It is one of Italy's richest agricultural regions, famous for balsamic vinegar and Parmesan cheese.
The EU Solidarity Fund grants aid of up to 1bn euro a year to EU member states, and countries preparing to join the bloc, if they are hit by major natural disasters.
The aid for Italy can be found from the existing EU budget but it still has to be approved by EU governments and the European Parliament.