Notorious murderer released from prison in Republic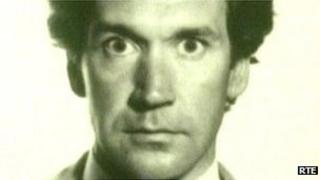 The convicted murderer Malcolm MacArthur has been granted temporary release from prison in the Republic of Ireland.
He served 30 years for killing nurse Bridie Gargan who had been sun-bathing in Dublin's Phoenix Park, in 1982.
MacArthur, now aged 66, is the latest notorious criminal to be released.
His case shocked the Republic and played a significant role in ending one of Charles Haughey's Fianna Fail governments.
MacArthur bludgeoned Ms Gargan to death with a hammer. It is believed his motive was robbery.
Although charges were not brought against him, he also shot dead Donal Dunne, a farmer in County Offfaly who had advertised the sale of a shotgun.
McArthur, who never worked, lived off a modest inheritance, but as his money ran out he decided to fund his life style by armed robbery.
He was arrested at the Dalkey home of former Attorney General Patrick Connolly, where he had been staying as a guest.
'Grotesque, bizarre'
After the arrest the attorney general went to the United States on holiday but was forced to return to Dublin to resign.
At a news conference at the time the then Taoiseach, Charles Haughey, described the events as "grotesque, unbelievable, bizarre and unprecedented".
The former late journalist Conor Cruise O'Brien used those comments to create the acronym GUBU, which has now passed into the Irish political lexicon.
A general election soon followed and Mr Haughey lost.
When MacArthur's release was considered in the past many, including people in the prison service and his mother, said they still considered him dangerous.
The Department of Justice confirmed he left Shelton Abbey prison under a condition that he sign on weekly at a prison and be monitored by the probation service.
He had been granted day and weekend release over the past 12 months.
He is one of the Republic's longest-serving prisoners.
'Black Widow'
It has also been confirmed that another convicted murderer, Catherine Nevin, is expected soon to be granted temporary parole to allow her to further her education.
Known as "the Black Widow," she has served 12 years for the murder of husband, Tom, at the couple's home and public house near Brittas Bay in County Wicklow in 1996.
Her trial captivated the Republic with allegations that she carried on many affairs behind her husband's back and had in the past solicited IRA members to murder him.
A final decision on her case has yet to be taken.
Another notorious would-be murderer has no such anxieties about waiting for news about her possible release.
Sharon Collins served four years of a six-year sentence for hiring a Las Vegas hit-man to kill her then partner, PJ Howard, and his two sons in the Limerick-Clare area.
In e-mail correspondence with the would-be hit-man, an Egyptian poker-player, she used the name Lying Eyes.
The name stuck with her in the coverage of her trial.
She was released recently and is reported to be lying low as she starts to re-build her life.