Future of Europe Group plans closer EU integration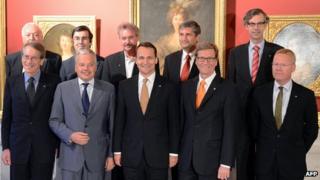 Eleven EU countries have drawn up a plan to strengthen the 27-nation bloc and make it a bigger global player.
German Foreign Minister Guido Westerwelle headed the "Future of Europe Group", which met in Poland's capital Warsaw on Monday.
The group, which does not include the UK, says the eurozone crisis has caused a "crisis of confidence" in the EU.
It says the European Commission - the EU's executive arm - must be stronger and its head could be directly elected.
The Commission has already acquired more powers of oversight in the crisis, scrutinising national budgets to ensure compliance with EU targets. The new controls are considered necessary to prevent any reckless accumulation of debt in future.
Besides Mr Westerwelle, the Warsaw meeting brought together the foreign ministers of Austria, Belgium, Denmark, France, Italy, Luxembourg, the Netherlands, Poland, Portugal and Spain.
Their report says EU treaties will have to be changed for some of the institutional reforms to take effect.
In the past treaty change has been a thorny and time-consuming issue for the EU, as voters in several countries have rejected proposals agreed by a majority of EU leaders. Treaty change requires unanimity among all 27 member states.
The report says such changes could be speeded up in future, when the EU has 28 or more members, by getting approval through a qualified majority, instead of unanimity.
Creating European identity
The report says the European Parliament - the only directly elected EU institution - "should boost its democratic visibility by the nomination of a European top candidate by each political group for the next EP elections [in 2014]".
Making European elections more EU-focused - instead of concentrating on national issues - could lead to a directly elected Commission president "who appoints the members of his 'European Government' himself", the report says.
The proposal is similar to ideas outlined by EU Commission President Jose Manuel Barroso in his State of the Union speech last week. He is now in his second term in office and has no named successor.
Not all the foreign ministers agreed on the longer-term goals, which will be studied by European Council President Herman Van Rompuy and his aides.
One such goal is "a European Parliament with the powers to initiate legislation and a second chamber for the member states". Currently only the Commission can initiate legislation - it is then discussed and amended by the EU governments (the Council) and European Parliament.
The report also calls for more involvement of national parliaments in the work of the EU, saying this could help boost the EU's democratic legitimacy.
Internationally the EU needs to have more coherence and impact, the report says, calling for a strengthened European External Action Service (EEAS). The EEAS - the EU's diplomatic service - is headed by Baroness Ashton from the UK.