No hard feelings after dog shoots huntsman in France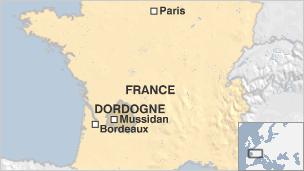 A leaping dog inadvertently shot his master in the hand by catching the trigger of his shotgun during a hunt in the Dordogne, south-western France.
The shot blew off part of the huntsman's right hand, which he had to have amputated after being flown to hospital in Bordeaux.
But the victim, whose name was given as Rene, said he had only himself to blame for not applying the safety catch.
"It wasn't the dog's fault - and he's adorable!" he told France Bleu radio.
The accident occurred while the huntsman was taking part in a deer hunt on Sunday with three Blue Gascony Basset hounds near St Michel de Double, near Mussidan.
Two of the dogs ran off after a deer while the third, the youngest and new to hunting, stayed by his master, according to French news magazine Le Point.
"[Then] he jumped on me to give me a cuddle, I think," Rene said. "As he jumped, he put a paw on the gun."
The huntsman, 55 and from the region, was evacuated to hospital by air ambulance.
He said he did not hold the incident against his dog "at all".
Related Internet Links
The BBC is not responsible for the content of external sites.