Alan Ryan Dublin funeral: Three charged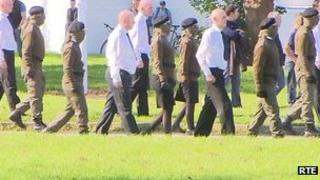 Three men have appeared in court in Dublin charged with membership of an illegal organisation known as the IRA.
They were arrested as part of an investigation into the funeral of leading Real IRA man Alan Ryan on Saturday 8 September.
Ryan was shot dead in north Dublin on 3 September. Shots were fired over his coffin during the funeral and masked men and women were present.
Fourteen other people who were arrested were released without charge.
In court were 33-year-old Nathan Kinsella of Matt Talbot Court in Dublin, Darragh Evans, 23, of Grange Park Rise in Raheny and 22-year-old Vincent Ryan of Grange Avenue Drive in Donaghmede.
They were remanded in custody to appear again before the court on Friday, 21 September.
The Garda (police) staged a major operation around the funeral, but made no arrests over it on the day.
However, earlier this week they carried searches in counties Dublin, Louth, Meath and Kildare. Sixteen men and a woman were arrested.