Costa Concordia: Experts 'blame captain and firm'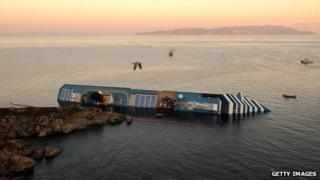 An official report has blamed the captain of the Costa Concordia cruise ship for the shipwreck in which 32 people died.
But, according to leaks of the pre-trial report in the Italian press, they also found fault with the Costa firm.
One of the three executives facing trial did not have a full understanding of what was happening, the report said.
Capt Francesco Schettino was blamed for a risky manoeuvre which ended when the ship ran aground off the Tuscan coast.
He is accused of causing a shipwreck, manslaughter and abandoning ship before all passengers were evacuated. He has defended his actions, saying many more would have died without his interventions.
He and eight others are under investigation, and the report was commissioned in order to help the court determine whether they should be put on trial.
The first hearing is scheduled to take place next month.
Linguistic barriers
In the report, sections of which have apparently been leaked to Italian newspapers, court-appointed experts said that Costa's Fleet Crisis Co-ordinator, Roberto Ferrarini: "seems not to have the pulse of the conditions of the ship".
When the captain told him that three sections of the vessel were flooded, he should have immediately told the captain to declare a general emergency and abandon ship, the report said.
"Instead, from that moment, six minutes passed before Schettino announced a general emergency and around 27 minutes before he called for the ship to be abandoned."
In a statement quoted by the Associated Press, Costa said that, by law, it was the captain's responsibility to alert authorities about the accident.
The firm said that Mr Schettino's reports to headquarters were so delayed, partial and confused that it was very difficult to discern how serious the emergency was.
The report also blamed the firm for insufficient training in emergency procedures for its staff, who were unaware of what they had to do in such a situation, according to Italy's La Repubblica newspaper.
It added that due to linguistic barriers the entire crew was not able to understand the emergency instructions given in Italian.
Many of the 4,200 passengers aboard described chaos as they attempted to leave the ship on 13 January, with some jumping into the Mediterranean to swim to the island.
Others were rescued by helicopters hours after the ship collided with rocky outcrops off Giglio Island.