Czech bootleg alcohol 'kills 16'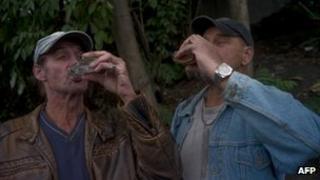 At least 16 people in the Czech Republic have died after drinking bootleg alcohol, officials have said.
The spirits were made from industrial chemical methanol and at least a further 22 people have been taken to hospital with alcohol poisoning.
Police have arrested a 36-year-old man in connection with the deaths.
Emergency measures have been imposed banning the sale of hard alcohol and authorities are carrying out searches to try to find the source of the drink.
Sweeps are being done of restaurants, bars, off-licences and shops across the country.
Some of those taken to hospital have gone blind after consuming the alcohol, with others being put into artificial comas by doctors.
The BBC's correspondent in Prague, Rob Cameron, says those poisoned were taken ill after drinking what they thought was vodka and rum bought in supermarkets and shops.
The company behind the brand thought to be the source of the poisoning has said that their labels were copied and that they are not responsible for the contents of those bottles.
"We have no evidence of any one person being behind the poisonings," deputy police president Vaclav Kucera told Czech TV, according to the AFP news agency.
"Everything seems to suggest there's a single source, but I cannot rule out that there are more," he added.
The deaths have been described as the Czech Republic's worst case of fatal alcohol poisoning in 30 years.