Russia PM Medvedev backs Pussy Riot release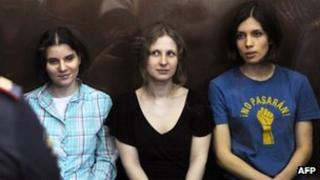 Russian Prime Minister Dmitry Medvedev has suggested that three activists from punk band Pussy Riot should be freed.
In August, three members of the group were jailed for two years for staging an anti-Vladimir Putin protest in a Moscow cathedral.
Mr Medvedev said he was sickened by their actions but said the five months they had spent in pre-trial detention was punishment enough.
The imprisonment sparked condemnation in many parts of the world.
The case comes up for appeal on 1 October.
'Hysteria'
"The punishment they have already endured being held in prison conditions for a quite significant time is fully enough to make them think about what happened, because of their stupidity or some other reasons," the prime minister said in quotes reported by Russia's Interfax news agency.
Mr Medvedev, who trained as a lawyer, said he did not want to take the place of the judge, but believed that suspended sentences would have been sufficient for the women.
He added that the "hysteria" that had accompanied the coverage of their case - which has made headlines around the world - had left him sickened.
The BBC's Steve Rosenberg, in Moscow, says it is unclear whether the prime minister's comments indicate a softening of the women's sentences can be expected.
Though prime minister, our correspondent explains, Mr Medvedev has limited influence in Russia, where President Vladimir Putin wields the real power.
The three band members - Maria Alyokhina, Nadezhda Tolokonnikova and Yekaterina Samutsevich - were found guilty of "hooliganism motivated by religious hatred".
In late August it emerged that two other band members who were being sought by police had fled the country.
The jailed women said their performance of a "punk prayer" on 21 February in the Christ the Saviour Cathedral had been to highlight the Russian Orthodox Church leader's support for Mr Putin.
Their brief, obscenity-laced performance, which implored the Virgin Mary to "throw Putin out", enraged the Orthodox Church.