German media express relief at euro bailout fund ruling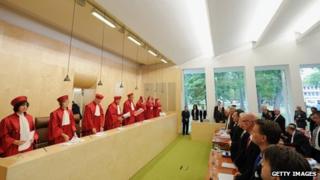 German media websites express relief after the Constitutional Court ruled that the country can take part in the new eurozone bailout fund and the European fiscal treaty, but there is also some criticism.
'Phew'
"Europe breathes a sigh of relief" says a headline on the website of Germany's best-selling Bild newspaper.
The weekly Der Spiegel describes the ruling as an "historically important signal for the euro rescue".
The Frankfurter Allgemeine Zeitung daily sums up reactions to the verdict in a one-word headline: "Phew!"
It runs a live page in which it quotes Foreign Minister Guido Westerwelle as praising the ruling as "a wise decision in the pro-European spirit of our constitution".
The paper also quotes the parliamentary group secretary of the Greens, Volker Beck, as saying "Phew" in a tweet.
"Strictly speaking the ruling that has now been issued is just a preliminary decision. However, since the judges took an unusually long period of time after the hearing in July, the general expectation is that the final verdict expected in a few months' time will not be any different but will merely contain some additions," the paper says in its main article.
Germany's Die Welt notes that the court has limited Germany's liability to a maximum of 190bn euros unless German MPs agree to a higher amount.
"This means that Germany can join the permanent euro rescue fund ESM while stating corresponding reservations under international law," the paper says.
'Afraid of fundamentals'
But the Sueddeutsche Zeitung daily carries a commentary by Heribert Prantl which criticises the court for avoiding the most important issues.
The ruling "does not move Europe forward, it does not move Germany forward and it does not move democracy forward, either, for this verdict avoids the most important issues," the paper says.
"It is being presented as a fundamental ruling but it is afraid of the fundamentals. It is, as usual when the Constitutional Court deals with Europe, a Yes-But verdict. But the Yes in the verdict is as weak this time as is the But," it adds, while warning that the court's attempt to limit Germany's liability will probably not work.
A report by Stephan Detjen broadcast on Deutschlandfunk radio says it is not clear how the conditions demanded by the court are to be met. "The court has not answered the question of how to actually do this, of who should make this legally binding declaration, of whether the lower house will have to approve this again and of whether the other signatory states will have to agree to such German reservations," he says.
BBC Monitoringreports and analyses news from TV, radio, web and print media around the world. For more reports from BBC Monitoring, click here