Q&A: German court ruling on euro bailout fund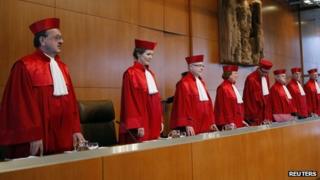 On 12 September, Germany's Constitutional Court delivered its much-anticipated verdict on the legality of the eurozone bailout fund and the EU fiscal pact.
It rejected petitions to block the initiatives - provoking relief in European governments and on the financial markets.
However, it did set certain conditions.
Who were the petitioners?
Legal challenges against the bailout fund - the European Stability Mechanism (ESM) - and the fiscal pact were filed by the opposition Left Party and an association called More Democracy, whose complaint was joined by some 37,000 citizens.
The petitioners also include some economists and an MP for Chancellor Angela Merkel's right-wing CSU Bavarian sister party, Peter Gauweiler.
What was their complaint?
More Democracy wanted the court to rule that the ESM and the fiscal pact could only be approved in a referendum. They and other petitioners argued that the measures take away budgetary powers from Germany's elected MPs.
The Left Party warned that the eurozone crisis tools would not only undermine democratic rights, but also lead to welfare cuts.
What was at stake?
The ESM is designed to provide funds to eurozone governments which could not borrow on the markets, while the fiscal pact is meant to bring countries' deficits down to a manageable level.
If the judges had ruled against the initiatives, therefore, it could have completely derailed the EU's efforts to contain the eurozone crisis.
The immediate consequence would probably have been turmoil on the markets, and growing doubts about the financial futures of Greece, Spain and Italy.
What did the court say?
The court ruled that the laws, which have already been passed by the German parliament, in "high probability" did not violate the constitution, and could therefore be ratified by President Joachim Gauck.
However, Chief Justice Andreas Vosskuhle said Germany must get legal guarantees before ratification that Germany's financial liability to the ESM could not be increased without the approval of the German parliament. Germany is said to be liable for 190bn (£150bn) when the 500bn-euro ESM is added to the existing temporary fund, the EFSF.
Judge Vosskuhle also insisted that German MPs be kept fully informed of decisions made on the implementation of the ESM.
What was the reaction?
Foreign Minister Guido Westerwelle welcomed the ruling as "a smart decision in the pro-European spirit of our constitution".
Markets reacted with relief. European share indexes rose, the euro posted a new four-month high against the dollar, and the borrowing costs on Spanish and Italian debt fell.
BBC Monitoringreports and analyses news from TV, radio, web and print media around the world. For more reports from BBC Monitoring, click here