Former French PM Villepin questioned by police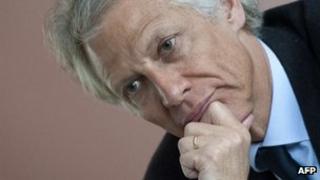 Police in Paris are questioning former French Prime Minister Dominique de Villepin over an embezzlement case involving a friend.
Mr de Villepin has been placed under pre-arranged police custody for the interrogation, a source told AFP news agency.
He is being asked about an alleged intervention in the Relais & Chateaux fraud inquiry, Le Monde reports.
The former prime minister has denied involvement in the case.
A close friend of Mr de Villepin, Regis Bulot, is accused of embezzling 1.6m euros (£1.3m; $2m) between 2002 and 2008.
Mr Bulot, who formerly headed the Relais & Chateaux luxury small hotel association, was arrested in November before being released again in June. He denies the charges against him.
The former prime minister was brought into the case when police secretly recorded a telephone conversation between the two men in early 2010, the BBC's Hugh Schofield reports from Paris.
In the bugged phone call, it is alleged that Mr de Villepin claimed to have put pressure on the new management of Relais & Chateaux not to co-operate with the police investigation.
Mr de Villepin was cleared a year ago of wrongdoing in an alleged smear campaign against former President Nicolas Sarkozy, the so-called Clearstream affair.
'You are dead'
Detectives from Strasbourg are interrogating Mr de Villepin in Paris as part of an inquiry launched by Jean-Baptiste Poli, an examining magistrate in the eastern French city.
According to Le Monde, a left-of-centre French daily, Mr Bulot was afraid that the new managers at Relais & Chateaux might reveal compromising information about his past activities in the post.
Police are said to have tapped phone calls from Mr de Villepin to his old friend before and after a dinner attended by Jaume Tapies, Mr Bulot's successor at the head of the hotel group.
"What they told me could produce the biggest fireworks of the next few years, supposing the Clearstream case stops," the former conservative prime minister is quoted by Le Monde as saying in a call on 12 January 2010.
Mr de Villepin reportedly boasts that he has "scared the pants off them" and that he warned the other people at the dinner that "if somebody some day starts to ask which politician slept with whom in which room, you are dead".
Denying any involvement in the Relais & Chateaux case in an interview for French station TF1 in December, Mr de Villepin said: "This case does not concern me. One may have a friend, friends, and not be implicated in their business dealings."