Eurozone crisis: The Spanish puzzle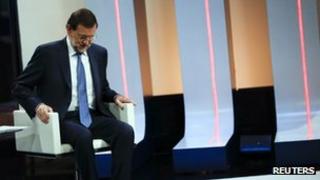 Spanish Prime Minister Mariano Rajoy only rarely gives interviews. On Monday, for the first time since he became PM nine months ago, he took questions on prime-time TV.
It is not only Spain but Europe too that is anxious to hear from him. The overriding question is whether Spain will accept a full bailout. He said no decision had been taken.
The question has become more acute since the president of the European Central Bank (ECB) said he was ready to start buying the bonds of troubled countries like Spain.
But that would only happen if Spain applied to the eurozone's bailout fund first and accepted conditions. Madrid would be expected to sign a "memorandum of understanding".
The Spanish government finds itself in a corner. It has significant debt to finance in October and it has to find 180bn ($229bn;£140) euros next year.
At the same time the Spanish regions are crying out to be rescued and the property market continues to reveal bad loans.
European officials believe that a bailout would lower Spain's costs and remove the country from the casualty ward.
ECB dilemma
Madrid's view is that a bailout might not even be necessary. That is merely a holding line.
What the Spanish government is arguing is that as it has already carried out reforms it does not need to accept further conditions. It wants a bailout lite.
Mr Rajoy said on Monday: "I will look at conditions. I would not like, and I could not accept, being told which the concrete policies where we had to cut."
But there is a difficulty. The president of the ECB, Mario Draghi, promised the bank would only intervene to help a country if it had accepted "strict conditionality".
Without conditions, it opens the bank to the criticism it is financing weak governments. German Chancellor Angela Merkel said on Monday: "The countries that will request aid will be obliged to sign a memo with strict, effective conditions."
So here is the dilemma. If Spain gets a rescue with easy conditions, the accusations will grow that the ECB is just acting to help countries in difficulty and so breaking its own rules.
If Madrid accepts tough new conditions it will be seen as inviting the so-called "men in black" - the IMF and EU inspectors - into Madrid, and that may spark trouble on the streets.
So how will this play out? If there is a stalemate, Spain's borrowing costs will go up again and that will force a decision.
Madrid may have to accept outside monitoring and more structural reforms. It will argue - with some justification - that further austerity measures are counter-productive when the economy is in recession and unemployment is at 26%. But Spain will have to accept some sort of outside conditions.
However, the Spanish puzzle will have to be solved, otherwise the markets will deliver their verdict and the relative calm of recent weeks will disappear.