German court ruling on ESM euro rescue fund to go ahead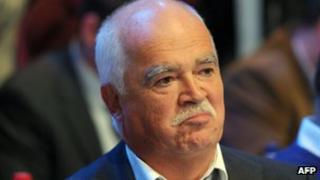 A petition by a leading German conservative MP has failed to delay a ruling by the country's top court on the EU's bailout fund.
The Constitutional Court will now issue its verdict on Wednesday as scheduled, on the legality of the fund, worth 500bn euros (£404bn; $640bn).
It will rule whether the facility's terms breach the German constitution.
MP Peter Gauweiler had argued the European Central Bank's new bond-buying plan was illegal.
With Germany contributing 27% to the EU rescue fund, German ratification is essential.
If approved, the bailout package, known as the European Stability Mechanism (ESM), would provide assistance to countries in financial difficulty.
In addition to its ESM verdict, the Constitutional Court is also due to rule on a new fiscal treaty aimed at forcing eurozone governments to adhere to strict budget discipline.
A recent opinion poll suggested 54% of Germans hope that the court will block the new fund.
'Irresponsible'
Mr Gauweiler, a Eurosceptic MP from the Christian Social Union party in Bavaria, said the bailout fund should not be ratified unless the ECB altered plans to make unlimited purchases of sovereign bonds.
Last week, the ECB announced it would agree to buy a potentially unlimited quantity of bonds of debt-stricken eurozone members on the condition that these countries made a formal request for bailout funds and stuck to the terms of any deal.
Mr Gauweiler, who had also challenged the German ratification of the Treaty of Lisbon in 2008, said the bank was overstepping its authority with the scheme.
However, the Constitutional Court said in a short statement on Tuesday that it would go ahead with its scheduled ruling.
Analysts say its decision on Mr Gauweiler's request is widely anticipated as a harbinger of how it might rule on the constitutionality of the ESM overall.
The verdict has been at the centre of intense debate in Germany in recent months.
Germany will account for nearly a third of all contributions to the ESM, paying out 21.7bn euros in cash and providing guarantees worth a further 168.3bn euros.
The ESM can start operating once member countries representing 90% of the fund's capital commitments have ratified it.
Critics say the bailout deal would hand too much power to Brussels and should be subject to a referendum.
Petitioners against the ESM and the fiscal treaty include the Left party (die Linke), the German association of family businesses and some leading economists.