Teachers to take action in schools over pay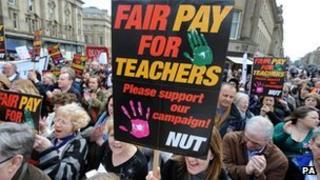 Schools in England and Wales are facing a rolling programme of industrial action this autumn in an ongoing dispute with teachers over pay, pensions and conditions.
Members of the National Union of Teachers and the NASUWT teaching union, which represent nine out 10 teachers, backed the action short of a strike.
Action will start on 26 September and continue until the dispute is resolved.
The government said industrial action would disrupt pupils' education.
The unions said teachers had been calling for the education secretary to resolve the ongoing dispute but no progress had been made addressing their concerns.
'Pupils deserve better'
Chris Keates, general secretary of National Association of Schoolmasters and Union of Women Teachers, said Michael Gove had "recklessly disregarded" her members' warnings.
"At every turn, the secretary of state shows contempt for the teaching workforce.
"What happens to teachers directly affects the quality of education for children and young people. Teachers and their pupils deserve better."
Christine Blower, NUT general secretary, said: "Teachers' morale is dangerously low. Over-the-top accountability measures are exhausting teachers and the idea that they can work to 68 is absurd.
"For the sake of teachers and children's education, these constant attacks from government need to stop."
The industrial action will include a work to rule, not attending school meetings and some extra-curricular activities, not filling in forms or covering for absent staff, and refusing to invigilate on public exams including Sats and GCSEs.
The unions said the idea of taking action in this way was to avoid disruption to pupils. But the action is likely to hit teacher-parent communication, as well as the running of schools and after-school activities.