UK, France and Germany call for tighter Iran sanctions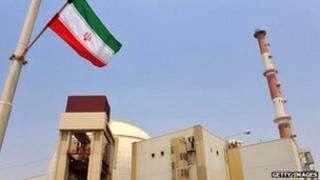 Britain, France and Germany have urged the rest of the European Union to impose new sanctions on Iran over its disputed nuclear programme.
Germany Foreign Minister Guido Westerwelle said Iran had showed no "constructive will" in talks and that urgent action was needed.
His comments were echoed by his French counterpart, Laurent Fabius, and the UK's Foreign Secretary William Hague, following informal meetings in Cyprus.
Iran is subject to a raft of sanctions.
The United States and the EU have long suspected that Tehran is trying to develop a nuclear weapon, in contravention of the Nuclear Non-Proliferation Treaty (NPT)
But Iran has always denied any military motivation for the programme, insisting it is for civilian purposes only and within the terms of the NPT.
'Sanctions working'
Speaking after three-way talks on the sidelines of an informal EU foreign ministers meeting in Paphos, Mr Westerwelle said new sanctions were necessary "and soon".
"I can't see there is really a constructive will on the Iranian side for substantial talks," he said, referring to the last round of talks with the so-called P5+1 group of powers - which includes France, Germany, Britain, Russia, the United States and China.
"If they will not come back to the table, then probably the next round is necessary. This is not something for next year, we are talking about next weeks," Mr Westerwelle told Reuters.
Mr Hague said that the latest sanctions, which were imposed in July and bar Iranian oil exports to the EU and isolate it from international markets, have had a "serious impact" on the Islamic Republic.
"It is necessary to increase the pressure on Iran, to intensify sanctions, to add further to the EU sanctions," he said.
Mr Fabius said diplomacy was at a standstill, and that ministers would discuss details of possible tighter sanctions over the next few days.
Negotiations in Moscow in June stalled after Iran refused to scale back its uranium enrichment unless sanctions on its economy were eased, a proposal rejected by the P5+1.
Diplomats expelled
Earlier on Friday, Canada government said it was closing its embassy in Iran and expelling Iran's remaining diplomats in Canada.
Ottawa cited Iran's support for Syrian President Bashar al-Assad and failure to comply with UN inspectors as the reason for the move.
Canada's Foreign Minister John Baird also said that Iran had engaged in "racist anti-Semitic rhetoric and incitement to genocide".
Iranian diplomats have been given five days to leave Canada.
"Canada views the government of Iran as the most significant threat to global peace and security in the world today," said Mr Baird's statement.
He also said that Iran had shown "blatant disregard" for the protection of diplomatic personnel.
"Under the circumstances, Canada can no longer maintain a diplomatic presence in Iran," he added.
Ottawa also designated Iran as a state-sponsor of terrorism and included it among a list of countries subject to travel warnings for Canadian citizens.