Shootings at Annecy France: 'Such a safe, nice place'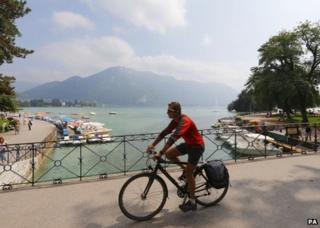 Residents have expressed shock and bewilderment at the shooting of four people, three of them believed to be British tourists, in a forest car park near the tourist destination of Lake Annecy.
British expatriate Julie McMahon, who runs a holiday business in Haute Savoie along with her husband Tony, told the BBC News website that holiday-makers came to the region precisely because it was "such a safe, nice place".
The mayor of Chevaline, the village nearest to where the victims were found, told French media he was mystified by such an "improbable" event.
"It feels like being on another planet," Didier Berthollet was quoted as saying by local newspaper L'Essor Savoyard.
A French holiday-maker at the camp where the murdered family had been staying told AFP news agency the event had "created a chill".
'Perfect area'
"This is the kind of place where you don't lock your doors, which is what makes it so shocking," said Mrs McMahon, whose company Family Friendly Skiing is based in Faverges, 6km (4.1 miles) from Chevaline.
Chevaline, she said, was a tiny hamlet where people only went to go walking. Her own children, like other teenagers, used the area for wild camping, she added.
"It is a perfect area for camping," she said. "You don't see people. It is quiet. You wouldn't have any hesitation letting your kids sleep out there."
While gun crime has been a growing concern in France's big cities, it has "not at all been an issue" in Haute Savoie, Mrs McMahon said.
At the same time, shooting is not uncommon in the area at this time of year because of the hunting season, she pointed out.
The worst thing about the news of the attack, initially, had been not knowing the circumstances.
"Nobody said there was a mad person on the road," Mrs McMahon told the BBC. "All we knew was that no weapons had been found."
She added that while the area was popular with Britons, many holiday-makers with children would have already left because of schools re-opening in the UK this week.
'Dreadful'
Mr Berthollet pointed out that the car park where the bodies were discovered lay in an uninhabited forest area 4km (2.5 miles) from the nearest houses.
Given the distance from Chevaline, local residents were not "overly concerned", he said. "It could have happened just as easily somewhere else," he added.
However, AFP reports a sense of shock pervading the Solitaire du Lac camp in St Jorioz, 8km from Chevaline, where the British victims had been staying,
"It's difficult to understand that something like this has taken place in a holiday site," said Frenchman Jean-Claude Guillamet.
"It's created a chill, one can see that people here are very moved."
Mary-Blanche Sibille, another camper, said: "It's dreadful, it's dramatic, above all for the children."