Greek leaders battle for euro survival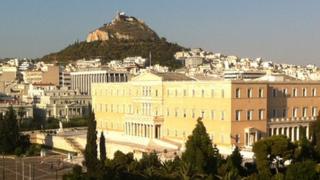 All we're asking for, said Greek Prime Minister Antonis Samaras recently, is a little air to breathe.
If he wanted to escape from the heat and traffic of central Athens for a short while, he could do worse than walk up to the summit of Lycabettus Hill, with its panoramic views across the city.
It's quite a climb, but Greeks have become bitterly accustomed to that in the last few years. As their economy shrinks at record rates, the path towards solvency has been getting steeper and steeper.
Now inspectors from the troika - the European Commission, the European Central Bank and the International Monetary Fund - have returned to Athens to make their assessment of the Greek economy, and to map out the difficult route ahead.
At issue: should the eurozone and the IMF continue to fund a country still deep in crisis? If not, Greece would have little option but to leave the single currency.
For the government it is portrayed as a battle for survival - perhaps a last chance - and Mr Samaras knows it.
"We're fighting to prevent Greece being pushed out of the eurozone," the prime minister said last week. "Fighting for recovery and for jobs. But there are tough decisions ahead."
There certainly are. To stick to its promises, the government has to find about 13bn euros ($16bn; £10bn) of yet more cuts in spending, without seeing basic services collapse.
It also needs to push through structural economic reforms at a much faster pace.
Lost credibility
Mr Samaras wanted two more years to implement the cuts but that would cost more money, and Europe doesn't want to pay.
His government knows it will have to restore a lost sense of credibility first.
"We need to show that we can create a modern competitive economy, and that this time we really mean business," said government spokesman Simos Kedikoglou.
"As for giving us more time, well I hope that prolonging our programme, our agreement with the troika, is something that may be examined in the future."
But there are plenty of people in Greece who believe the bailout programme for Greece has been set up to fail - that it has been making impossible demands from the start.
That was certainly the prevailing mood at a public meeting this week addressed by opposition leader Alexis Tsipras. His left wing coalition, Syriza, came close to winning the June general election and its message hasn't changed.
"The governments of Europe are demanding economic measures which are not feasible for Greece," said Nina Kasimati, who organised the meeting.
And after the traditional summer lull, street demonstrations against further cuts could soon intensify again.
"People are waiting for the new measures to be announced," Ms Kasimati said, "and then we will start a major struggle against them."
It doesn't help that opinion in Europe is also divided. The uncertainty that generates hardly encourages the investment that Greece so desperately needs.
Greece's reluctant ally?
Some influential European voices want Greece to leave the eurozone, they see it as a lost cause.
There is plenty of speculation that it could happen as early as the first half of next year.
But no-one knows for sure what the consequences of a Greek exit would be, and whether it would prove to be significantly more expensive than the current path.
In particular there is concern about how dramatically it could affect other larger eurozone economies such as Italy and Spain.
It would certainly be a major event, disrupting economies and financial markets. And for many people, that is still too great a risk.
The debate is particularly intense in Germany, the eurozone's main paymaster, where allies of Angela Merkel have openly called for Greece to go.
But the chancellor herself may prove to be a valuable, if reluctant, Greek ally.
"When it comes to the question of Greece leaving," said Guntram Wolff of the Bruegel think-tank, "I think she has taken the decision that this is not a risk she would like to initiate or be responsible for."
So the report from the troika will play a critical role in determining how the debate will unfold. Everyone knows that the Greek programme is off-target. But how far off?
At great cost, some progress has been made.
The Greek economy is gradually becoming more competitive, as wages fall dramatically. The primary deficit has fallen sharply too.
But as recession deepens, interest payments on Greek debt are still taking up a huge slice of government expenditure.
The troika will have to decide whether that is sustainable in the long term. The aim is to reach a debt-to-GDP ratio of 120% by 2020.
'One step at a time'
Critics argue that the numbers simply don't add up.
"At the moment the debt-to-GDP ratio is about 160%," explained Philip Ammerman of the Athens-based Navigator Consulting Group. "It will rise again next year, because the economy is continuing to shrink."
"Even if you take an optimistic position, interest on the debt will account for 25% of government expenditure next year. That's unprecedented."
And that means, for example, that even if Greece meets a target of raising 50bn euros this decade, through an ambitious privatisation programme, that money will cover only three or four years of interest payments at current rates.
"I think people are asking themselves: 'Why are we doing all this?'" Mr Ammerman said. "It doesn't make sense, there has to be a further restructuring of the debt."
"Let's wait and see," says government spokesman Simos Kedikoglou, cautiously. "One step at a time - the next two months will be crucial for Greece."
So after three governments, two bailouts and an economic contraction of Great Depression proportions, this country isn't out of the woods.
Nor are its partners. If more Greek debt does have to be written off, it won't be the private sector taking a loss next time but other eurozone countries and the European Central Bank.
Little wonder then that there is still so much focus on Greece.
The political calculations are as complex as the economic ones, and big decisions will soon have to be made.
The troika's report is expected to be finalised in about a month's time. And then European leaders will gather for a summit in Brussels in mid-October to decide whether to stick with Greece or to let it go.