Milan funeral for Catholic Cardinal Carlo Martini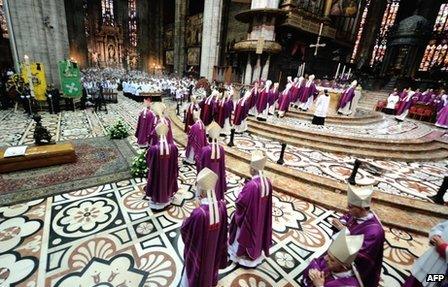 The funeral of progressive Italian Catholic Cardinal Carlo Maria Martini, who died on Friday at the age of 85, has taken place in Milan.
Over the weekend, more than 200,000 people came to pay their respects as he lay in state in the cathedral where he was archbishop for over two decades.
Pope Benedict XVI sent a message praising the great "openness of spirit" of the cardinal once tipped for pope.
Cardinal Martini was a rare voice of dissent among the conservative Church.
In his final interview, published posthumously, he called the Catholic Church 200 years out of date.
Speaking to Italy's Corriere della Sera, he said the Church's culture had grown "old" and "tired" and called for a "radical transformation, beginning with the Pope and his bishops".
On Monday, dozens of bishops, dressed in the purple vestments of mourning filed past his coffin during the funeral mass, which was led by the current Archbishop of Milan, Cardinal Angelo Scola.
A member of the Jesuit religious order, Cardinal Martini was known for his dialogue with people of other faiths and no faith.
Shortly after becoming head of Italy's largest diocese in 1979 he became known for celebrating mass among workers in factories and was a frequent visitor to the city's prison.
A distinguished scholar, after retiring as archbishop he spent six years in Jerusalem, focusing on his studies.
The World Jewish Congress issued a statement of sorrow at his death, saying that he played an important role in fostering relations between the Catholic and Jewish communities.
Cardinal Martini was expected to be buried within the cathedral where he was archbishop until 2002.